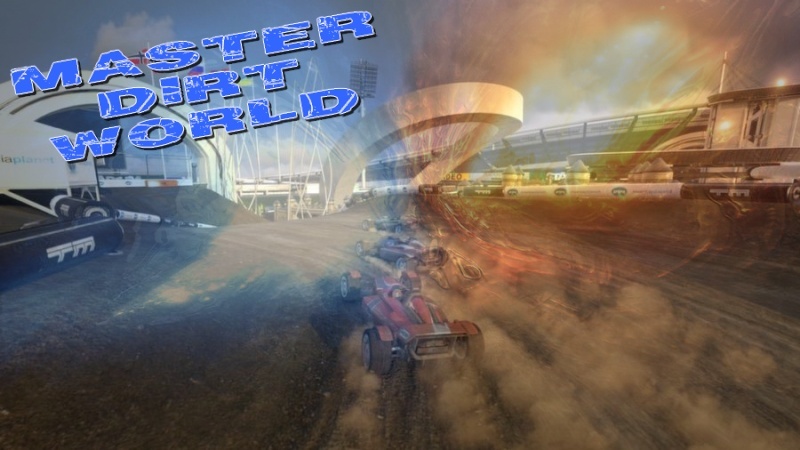 Français
Après la création de la Team Bone en 2013, je vous annonce le lancement d'une compétition dirt solo, la MDW "
master dirt world
" qui permettra a toute la communautés de s'affronter pendant cette événement.
Nous ne voulons pas vous spolier le règlement mais cette compétition sera sur six courses "course de trois map", pendant dix mois " une course tout les deux mois ".
Donc pour cela nous  recherchons des maps fluides avant tout. Elles devront être
possible de rouler autant pour les tops que les débutants .
Quelques restrictions tout de même dans vos créations :
-Les maps devront durer
1min
. Les maps seront des maps
multilap
"pour la validation 2 tours suffiront".
-Vous devez travailler au mieux les transitions, sauts, réceptions...pour tenter de réduire au maximum les bugs.
-Vous devez pouvoir "
respawn
" depuis
n'importe quel check-point.
-Tout passage difficile (saut en aveugle avec virage derrière, réception décalée sur un saut, etc...) ou ambigu (plusieurs routes possibles) doit être parfaitement signalisé.
-N'hésitez pas à
multiplier les panneaux indicateurs
(left, right,haut, bas, warning....) , pour éviter les risques de cut.
-Des panneaux doivent être installés pour la pub de la compétition au départ.
-Prévoyez suffisamment de check-points, pour éviter la possibilité de Cut.
-L'hexadécimal est toléré .
-Les blocs bitume sont autorisés.
-Toutes les maps devront être en mood jour et devront avoir un poids total de 2800 planets maxi. (Attention au calcul des ombres avec Tm2 et évitez au maximum les routes couvertes, genre tunnel interminable dans le noir)
Les Panneaux
-Pour ce qui concerne les panneaux de signalisation, seul les
originaux fournis par TM² seront acceptés.
-Les autres panneaux officiels , pourront êtres placés le long du
parcours.
Mediatracker :
Médiatracker autorisé pour le GPS d'intro .
Inscription ouverte sur le site de la team Bone
http://bone.forumbenin.com/
Adresse Mail :
L'envoi de vos maps se feront a l'adresse suivante :
churl1@voila.fr
Bon mapping a tous....
-----------------------------------------------------------------------------------------------------------------------------------------
English
After the creation of the Team Bone in 2013, i announce you the launch of a dirt solo event, the MDW: "Master Dirt Wolrd" who will allow to the whole TM² community to confront themselves against all the best drivers during this event
On the menu of this event, you will have six match reparted on the year, one every two month, and each match is composed by three maps.
So for that, we are looking for some fluid maps, that every body can ride, confirmed driver like beginner.
Some restrictions in your creations:
-your track will have to last one minute, in multi lap mode (two laps required for the track validation)
-Work hard on jumps, transitions and reception to minimize bugs
-Respawn must be possible for every Checkpoints
-All ambiguous way (transfer, blind jump, different ways possible...) must be signalize
-Don't hesitate to put lot of board (up, down, right...) and Checkpoints to minimize cut risk.
-Advertising board must be visible at the start for the promotion of the event
-The hexadecimal is tolerated
-Road blocks are allowed
-All the maps must be ajourned and have a maximum weight of 2800 planets (takes care of the shadows calculation on TM²)
The board:
-Only the originals signalization board from TM² are allowed
-Other boards can be put all the way long of the track.
Mediatracker:
Allowed for the intro GPS
Register open on the Team Bone website:
http://bone.forumbenin.com/
Mail Adress:
Please send your creations here:
churl1@voila.fr
Good mapping to everyone
Français :

• Préambule :

La Master dirt world est une nouvelle compétition solo créé pour tout les joueurs de la communauté TM². Cette compétition a pour but de divertir toutes cette communautés du débutant au joueur confirmé sur dirt.  

• Admin

Les admins de la compétition sont maîtres à bord et se réservent la possibilité de modifier le
règlement si une situation imprévue venait à apparaître avant ou durant la compétition.
Le respect des admins et des joueurs est de rigueur, le non-respect de cette règle sera motif d'un
renvoi de la compétition du joueur.

• Inscription :

Les joueurs peuvent s'inscrire tout au long de la compétition "bien sur ils n'auront pas les points des maps raté"
Il n'y aura pas de limite de joueur inscris.

• Pack maps :

Le pack map sera disponible au téléchargement après chaque meeting. Il y aura 6 pack map de trois map par pack.

• Organisation des matchs :

Le meeting se déroulera sur le serveur de la team Bone. Le meeting commencera a 21h.

• Déroulement d'un match :

Un meeting se déroulera sur trois maps modlap dirt, les maps dureront 10 min chacune. Au bout du temps impartie le classement sera effectué grâce au nombre de checkpoint passé par les joueurs. A la fin des trois les admins comptabiliseront les CP de joueur sur les trois maps différentes, ainsi le classement sera effectué grâce a l'addition des CP.


• Calendrier :

1er meeting : le 27 janvier a 21h.
2ème "   "   : Mars
3ème "   "   : Mai
4ème "   "   : Juin
5ème "   "   : Septembre
6ème "   "   : Finale Novembre

• Classement :

Un classement sera effectué après chaque meeting un ou deux jour après le meeting.

• Triches :

En cas de triches; CUT durant le match, le joueur sera banni de la compétition.

• Récompense :

Il y aura plusieurs tag donné comme :

1er     : Tag or
2ème : Tag argent
3ème : Tag bronze

le joueur le plus assidu                                : Tag argent
Cou de cœur des admins                             : Tag bronze
La flamme rouge* "dernier du classement" : Tag bronze


* pour la flamme rouge, on prendra le dernier qui aura fini tout les meeting.

-----------------------------------------------------------------------------------------------------------------------------------------

English :

Introduction:

The Master Dirt World is an event created for all young player of the TM² community

Admin :

Admins are the only one must be able to take decision about the rules and change them if necessary before or during the event. The respect of Admins and player is rigorous; in case of non compliance of this rule will be motive of the eviction from the event for the player .

Inscriptions:

players can register themselves throughout the event, of course, they will not be cretided by the miss map point.

Maps pack:

The Maps pack can be downloaded after each meeting. At all, there is six maps pack with three maps for each one.

Matchs Organization:

Each match will take places in the Team Bone's server and start at 21h.

Matchs Progress:

For each match, there is three dirt maps in modlap, and they will last 10 minutes each. At the end of the allotted time, a ranking will be etablish in function of the number of Checkpoints cross by each driver. After the three maps, Admins will count all Checkpoints cross by the driver in the three maps, and the final ranking of the match will be etablished.

Calendar:

1st match: January 27 at 21h CET
2nd.......: March
3rd........: May
4th........: June
5th........: September
6th.......: Finale in November

Ranking:

A general ranking will be etablish, one or two days after each match.

Cheat:

In case of cheat or cut during the match, driver will be ban of the event.

Reward:

Different Tag will be gift:
-1st ranking: Gold Tag
-2nd ranking: Silver Tag
-3rd ranking: Bronze Tag
-The most diligent player: Silver Tag

-Very favorite of the admins: Bronze Tag
-Rear light* (last player): Bronze Tag

*For the Rear Light, we will take the player who have do all the match of the event.


Sujets similaires
---
Permission de ce forum:
Vous
ne pouvez pas
répondre aux sujets dans ce forum